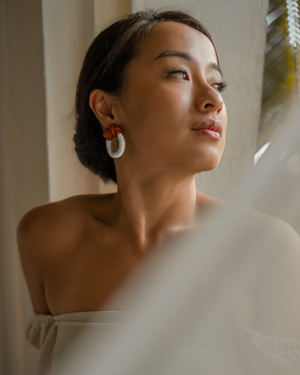 KUPU loop - Umber / Agave
Sale price Price RM156.00 MYR Regular price RM208.00 MYR
Dimension : 1.0" ( Knot width ) X 1.5" Long 
This KUPU Loop earring is super lightweight and handmade from 100% Egyptian cotton & 90% Recycled Cotton. Fibers are fade resistant and washable if contacted with stains. 

This earring is made-to-order and requires 1-2 business day for production prior to shipment. Proudly handcrafted in Sabah, Borneo with an edition of 30.
___

 In effect of COVID-19 pandemic, please visit -Shipping Policy to get updates on shipment schedule.